Brand You
By John Purkiss & David Royston-Lee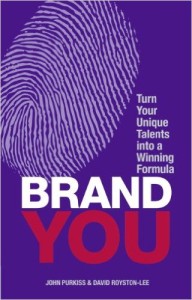 The best selling guide to building your personal brand
Now translated into 4 languages
 You already have a brand. As Jeff Bezos, the founder of Amazon, once said, "Your brand is what people say about you when you are not in the room".
This book will show you how to:
Identify your unique talents and turn them into a winning formula
Identify your values and your unique combination of skills and experience
Discover your purpose
Build a strong brand identity
Make sure employers, clients and customers remember you. When they have a need, they will ask for you.
What people say about Brand You:
"Original insights in a concise format − Brand You is an inspiring read." – BB Cooper, composer

 "We find Brand You an invaluable tool for helping top-performers become leaders in their sectors." –Frank Lawrenson, Chief Executive, Astror

"I was lucky enough to read this book just as I was re-thinking my career. It proved invaluable."- Kevin Mannion, social media consultant

"Not only does this book set the context for why personal brand building is more important than ever. It also has well structured, insightful and practical words on what to do about it." – Theresa Wise, SVP Corporate Strategy and Business Development for a global media corporation, Los Angeles
How to win from the start – Your No 1 Career Guide
by David Royston-Lee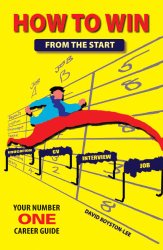 There are many books written on how to find a job or a career.
'Career management' is a subject we all talk about a lot, but few people actually work at properly. Most of us believe, particularly when there are 'credit crunches' and redundancies all around us, that we are just lucky to get any job.
And what do we do? The same old things everyone else does:
Looking and applying for job ads on the net – silence….
Going to recruiters – they never get back to me….
Yes it's a difficult world if you follow the tried (or should I say tired) and trusted ways that everyone tells you to follow.
A Career management approach is a little different… and it's simple… you need to answer three questions:
Who am I?
Where am I going?
How am I going to get there?
Most books on the job search forget the first question and concentrate on the easier, latter two: 'where am I going' and 'how I am going to get there'. So in this book we concentrate much more on the 'who I am' so that we really can see our authentic selves, and more importantly, are able to identify and promote ourselves effectively.
 What people say about 'How to win from the start' :
"At last a career guide that can really help young adults achieve their full potential leading to a lifetime of happiness. Clearly presented with pertinent content enabling focus on each individual's unique abilities and qualities. Every school leaver should have a copy." – Elaine Jaffe

"This book is highly informative and the most approachable book of its kind due to a concise and simple layout. As a student about to graduate from University, I can say with confidence that this book is a an essential buy. It tackles the daunting prospect of entering the working world by breaking it down into more manageable steps. It has certainly helped me think more carefully about my approach to my career." – Ciara Lee

"How to Win (From the start) is a clever and creative toolbox for all those, young and old alike, who are eager to take a practical and proactive approach to their career development. Full of ideas, guidance and practical suggestions, a very worthwhile purchase." – Dr. Danny McGuigan
The Career Repair Kit
by David Royston-Lee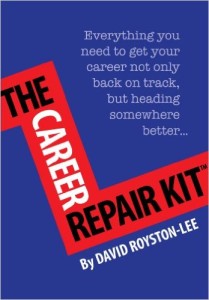 Experience indicates that successful job seekers have six positive things going for them:
A systematic approach
Knowledge of who they are, what they have to offer, what they are looking for
A willingness to listen, take advice and try new things
The support of family, friends and colleagues
Enthusiasm
Persistence
This kit of exercises and useful information has been put together in as logical and practical a way as possible to make it easy to ensure you are in the top 10% of successful job seekers, whether you are new to the work of work, have suffered the opportunity of redundancy or have just decided you need to change your career after many successful years in a comfortable (or not so comfortable) job.